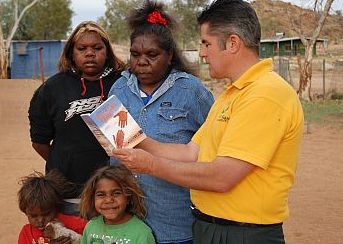 Scientology Volunteer Ministers Outback Goodwill Tour—Traveling through the Australia outback helping one person at a time
Scientology Volunteer Ministers, traveling through the Australia Northern Territory, are bringing help on a one-on-one basis, where help is needed.
Australian Aboriginal culture may well be the oldest continuous living culture on Earth, beginning an estimated 40,000 to 60,000 years ago. But over the past two centuries the culture and rights of the indigenous people have taken a tremendous toll.
Last year, the Australian government formally apologized for the past wrongs caused by successive governments to the indigenous Aboriginal population, acknowledging its laws and policies had "inflicted profound grief, suffering and loss". And the government's formal support for the United Nations Declaration on the Rights of Indigenous Peoples last April was acknowledged by the Australian Human Rights Commission, as a "giant step," toward "embracing the fundamental guiding principles of mutual respect and partnership."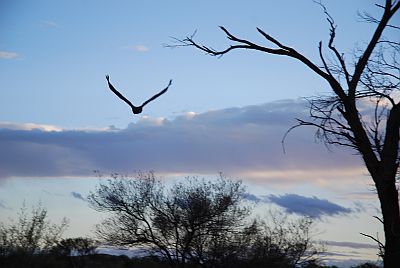 To make a real difference at grassroots level, the issues that impact the lives of indigenous Australians need to be addressed. A team of Scientology Volunteer Ministers, traveling through the outback, are bringing help to the Aboriginal community, one person at a time.
They help people where they work and live, visiting them in their homes, on the streets and in the camps. They provide seminars in skills such as conflict resolution, communication and the basics of organization. They tackle literacy problems by training parents, teachers and civic leaders on the technology of study developed by Scientology founder, L. Ron Hubbard.
Addiction and substance abuse, particularly alcohol and inhalants, are serious problems in the community and the volunteers use technology from the Scientology Handbook to help people withdraw from drugs and alcohol. They accompany this with Scientology assists to overcome the pain and discomfort associated with withdrawal. Scientology assists are procedures that greatly increase the speed of healing by addressing the emotional and spiritual factors in illness and injuries.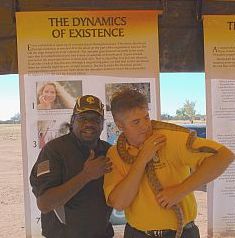 "I have experienced a reinvigoration in my faith in humanity and my will to live," wrote one man who was helped by the Tour. "I can now expand and achieve my intention in life," he went on to say. "Being associated with you and the materials has given me a glow in life—it's come back. I feel good. … I'm happy and grateful. There is nobody else in Alice Springs like you people."
The Scientology Volunteer Ministers Outback Goodwill Tour has taken to heart the spirit in which Mr. Hubbard created the Scientology Volunteer Ministers program: "If one is going to find fault with something, it implies that he wishes to do something about it and would if he could. If one does not like the crime, cruelty, injustice and violence of this society, he can do something about it. He can become a Volunteer Minister and help civilize it, bring it conscience and kindness and love and freedom from travail by instilling into it trust, decency, honesty and tolerance."